About the Founder: Attorney Mark Woodsmall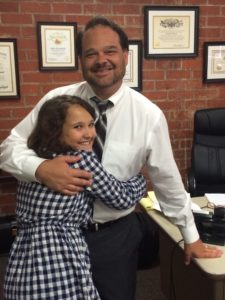 Mark Woodsmall is the founder of Woodsmall Law Group, PC a law firm based in the San Gabriel Valley area. The firm practices exclusively in the areas of Special Education, Regional Center Matters, and Special Needs Trust Planning .
In 2006, Mr. Woodsmall joined the faculty of the USC Gould School of Law as a Professor Adjunct, teaching in the area of special education law. He also served as the teaching attorney in the Special Education Advocacy Training Project – Los Angeles. The SEAT Project, an innovative nationwide advocacy training project, is funded under grant from the US Department of Education and administered through COPAA, The Council of Parent Attorneys & Advocates and the USC Center for Excellence in Developmental Disabilities (Children's Hospital Los Angeles). Mr. Woodsmall sits on the UCLA Center for Autism Research & Treatment (CART) Community Advisory Committee.
He has been an active volunteer with Cure Autism Now/Autism Speaks, serving on the National and Los Angeles Walk Planning Committees and Government Relations Committee. He was named to the Board of Autism Speaks – Southern California in 2008 and served as its Chair from 2008- 2015. During this term, the organization sponsored essential family support talks throughout Southern California, advocated for comprehensive medical care in Autism (Lobbied for establishment of the ATN hospital at Children's Hospital – Los Angeles), and secured more than $900,000 in local grant funding for programs serving children and young adults on the Spectrum.
Mr. Woodsmall is a national lecturer on parent's rights under the IDEA, Section 504 and the Lanterman Act. Mr. Woodsmall was an invited presenter at the 2012, 2013 and 2014 COPAA Conferences (national conference of student attorneys) in Florida, New Mexico and California. Mr. Woodsmall was a guest lecturer at the UCLA Extension in 2022.
Mr. Woodsmall has been recognized for his work in the field in 2012 as the recipient of the National Ambassador for the Children Award from Casa Colina and in 2013 with the prestigious Stanley I. Greenspan Humanitarian Award.
In 2014 Mr. & Mrs. Woodsmall formed the Spero Project, a 501C3, non profit organization dedicated to work training opportunities for young adults (16 to 25 years of age) with developmental disabilities.
Mark & Eva Woodsmall are parents of a child with autism.
"If I only had the courage, the patience, the strength he does, I would be a remarkable person. Each and every day he works harder than any of us to speak, to share his hopes and dreams, to prove to others that his intelligence is not defined by the words he has but by the words he holds within, and to change the world for the better." – Eva Woodsmall, 2009