Hope Grows Here
A New Kind of Training Program
The Spero Vineyards Viticulture Vocational Training program is dedicated to providing opportunities for young adults with developmental disabilities. Spero is a unique public-private partnership between project organizers Mark & Eva Woodsmall and the City of Temecula Global Citizens Initiative. Currently, the project has 1380 vines under cultivation and there are plans to expand the vineyard by an additional 2,000 vines.
Student participants in the project will receive instruction in the history/culture, science, hospitality, business/marketing, and agricultural aspects of the winemaking business. Students will be afforded the opportunity to earn a customer service certification and a food handler's license. Students will be trained in essential skill areas that will position them to apply for and secure employment in a mainstream work environment. Each class session will be interactive and hands on to stimulate and engage students. The project is in its second cohort with more than 22 students trained or in training. The project aims to expand the program to serve up to 200 participants annually in the next five years.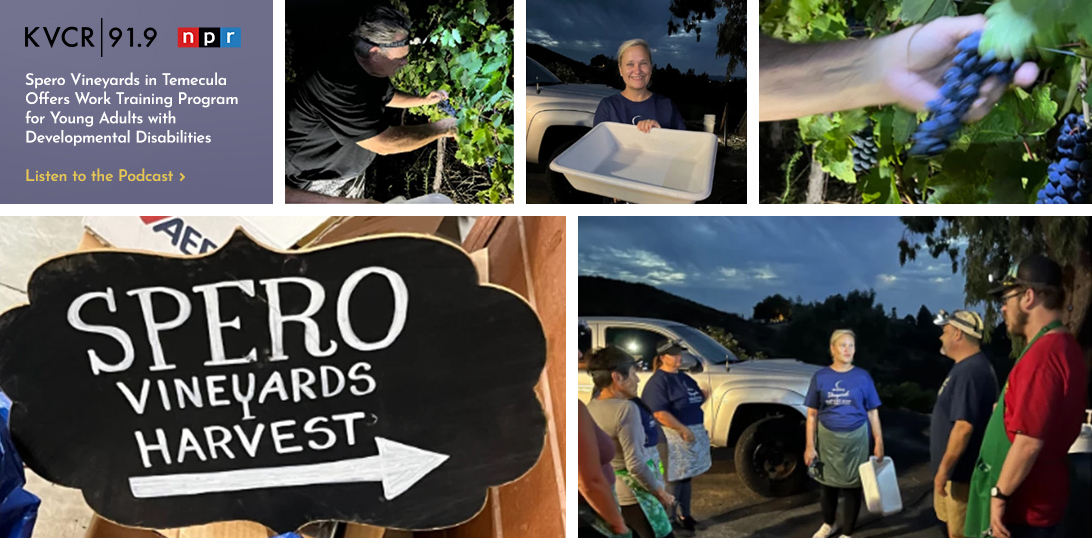 Did You Know?
1 in 10 American Children has a Disability.
80% of Adults with Disabilities are unemployed.
Of those with jobs, only 20% have full time employment.
MYTH: Persons with disabilities are unable to meet performance standards, thus making them a bad employment risk.
FACT: A 1981 DuPont study which involved 2,745 employees with disabilities found that 92% of employees with disabilities rated average or better in job performance compared to 90% of employees without disabilities. The 1981 study results were comparable to DuPont's 1973 job performance study.
Spero Announcements
Volunteers Needed. If you are interested, contact us at sperovineyards@gmail.com
Our Work At Spero Would Not Be Possible Without The Generous Support Of Our Community!
---
Our Current Needs:
Wine Grape Crusher Destemmer, Zambelli Traminer – $6,250.00
Macro Picking/Fermenting Bin 24S – $295.00 (2 needed)
White Food Grade Bins – $22.95 (5 needed)
Harvest Tools, Felco F-2 Classic Manual Hand Pruner – $50.00 (10 needed)
Volunteers
If you would like to volunteer at Spero Vineyards please email us here!
Thank you to our supporters:
Candice Vaughn & Family
Kristin Kucia & Family
The Temecula City Council
Mike Rennie and Leoness Cellars
Doffo Winery
The Anselmo Family
Max Goldman, Esq.
Peter Hubbard and Family
Mike Naggar, Mayor and Counselperson (Ret.)
With very special thanks to:
Autism Speaks – Community Grant Program
Mitsubishi Electric America Foundation (MEAF)
Hon. Chuck Washington, Riverside County Supervisor for the Third District
Greg & Melissa Pennyroyal
We'd love to hear from you!
Phone: 951.892.0676
Email: sperovineyards@gmail.com